If you're buying your first home, there are plenty of things that you'll need to know. Being informed will allow you to avoid some of the most common mistakes that first-time homebuyers make. These errors and their remedies can be found below. Don't join the crowd and make an error, know before you buy. 
They Don't Have Enough Funds


Every homebuyer plans for mortgage payments. Not every buyer plans for all of the other costs that go along with buying a home. Just because you can afford mortgage payments doesn't;t necessarily mean that you can afford the house. 
There's so much financially that goes into owning a home. You'll need to plan for things like home maintenance, insurance, taxes, closing costs, and more. All of this will need to be saved ahead of time in order to buy and maintain a house. Things like property tax and insurance can go up yearly, and these costs can be very unexpected. 
Not Securing A Loan


If you don't secure a loan first and find the home of your dreams, you could be in for trouble. If you haven't been pre-approved for a mortgage, finding a home and putting an offer in is a bit riskier. Many buyers don't realize that they can't qualify for the amount of loan that they think they can. Getting pre-qualified allows buyers to understand just how much house they can afford. 
Avoiding Real Estate Agents
If buyers go it alone, they are taking a risk. The seller pays the real estate agent fees in a home transaction. You really have nothing to lose getting a professional to help you. From there, your agent can recommend all sorts of professionals to assist you in your home search including lawyers, mortgage companies, home inspectors, and others. It's essential for a smooth home transaction to work with people who are experienced and know what they're doing.    
Depleting Your Savings


When you buy your first home, you're going to need a reserve of cash beyond what you have saved for a downpayment. This cash includes an emergency fund, money for repairs, furniture, new appliances, and other unexpected expenses. If you use all of your savings on a downpayment, you'll be in a dangerous financial situation. Just make sure you have saved enough extra for a rainy day fund.
Opening New Accounts


Before your loan is closed, you should be frozen- financially frozen that is! Don't open any new accounts. It can be tempting to head out and buy a new car that will look good in your new driveway or to fill your house with all sorts of brand new furniture, but you should wait. Once you get the keys to your new home, you're in the clear to spend again and open new accounts. You don't want to overextend your budget of course. Just be sensible!      
When you put your home up for sale, it can be an emotional time. You need to say goodbye to a place where you have lived for at least a small portion of your life. You created memories in that home, and now, it's the job of a new family to make new memories. 
Once the home is well on its way to being sold, there will be an appraisal of the property. It's scary as a seller to think that the appraisal has the ability to actually halt the entire sale of the home. It can be a confusing process, to say the least, to have your home appraised. You have determined your listing price and received an offer on the home already. It seems like backtracking to value the home after this part of the sale process is complete. 
The Appraisal Removes The Tension
The appraisal is one of the factors that bridges the worlds of the buyer and the seller. As a seller, the things that you think add value to your home may not be all you have hoped them to be. As a buyer, you want to be sure that you're paying a fair price for the home. Below, you'll find some common myths about home appraisals and the truth about them. 
The Appraisal Is Not The Same As An Inspection
The home inspection is used as a tool to protect the buyer. Although the appraisal is used as a protection for the buyer, the two are separate entities. The inspector looks at everything in the home that can be a problem including leaks, cracks, and faulty electrical systems. The home appraiser is simply meant to find the objective market and the estimated value of the home in that market.
The Appraisal Isn't How Much The Buyer Will Pay
While the appraisal gives a good estimate of the value of a home, it doesn't take every single factor into account. It's one version of how much the home should be priced at. What the appraisal does affect is the contract on the home. 
If the appraisal doesn't match the contract price, let's say that the home is appraised lower than what you're paying for it, the lender will not make up the difference. It can become a discussion between the buyer and the seller to see who will pay for the additional uncovered cost of the home. The buyer can pay the difference themselves. The seller may decide to cover the difference themselves. Either way, this is where the home buying process can get kind of messy.
Bigger Homes Don't Necessarily Appraise For More Money
Just because a home is bigger, doesn't mean that it's worth more than the smaller home next door. A larger home could have issues with age such as an older roof, or less complex fixtures. If a smaller home is more updated, it very well could appraise for more. Don't count on the square footage to dictate the appraisal price of a home.
Some areas of the country just don't see a ton of rain. California has been suffering a drought for some time and many areas of the west coast have suffered the same problems. If you live in the west and hope to protect your lawn and garden from drought conditions all while saving money, this post is for you. There are plenty of drought-tolerant gardening practices that you can enact in order to save your garden and make it easy to maintain at the same time. 
Where To Start
Drought-tolerant gardening is also known as xeriscaping, so now you can use this fancy term to tell your friends what you're up to! You may be wary of undertaking this new practice at first because there can be some up front costs. The good news it that it will save you money in the long run. You may even find your new garden to be much cheaper. 
First, consider other alternatives to traditional turf for your lawn. Clover, for example is a great alternative to turf grass. Clover stays green even when dry, weed-free and rarely has to be mowed. There are other types of grasses and alternatives that are great for dry conditions including ornamental grasses. These grasses are low maintenance and can thrive in different soils. Perennial ground covers are another great option for a drought tolerance. These are plants that spread across the ground. They don't grow very tall so there's little need for maintenance.   
Landscaping
Drought-tolerant plant beds can be placed throughout a landscape. Plants can include shrubs, trees, wildflowers and ornamental grasses. You can begin by checking for the types of plants that are spread around your home. Variety is key, but you need to make sure you choose the plants that will thrive. 
Save Money
You can save in the purchase of the plants for your new landscape by selecting smaller plants. Shrubs that have yet to grow at the nursery will soon grow larger, but they don't cost as much.  You can also check out the discount section of your local home improvement store for some plants. Friends and neighbors may also be able to help you in your search for new garden materials. The perfect plant for your drought-proof garden might be right next door and easily started from a cut of the plant. You could also grow plants from seeds, which is the least expensive way to start a new garden. The disadvantage is that seedlings take time to grow. 
It's quite simple and fairly inexpensive to create your own drought-proof landscape. In the long run, you'll be thankful you took the steps to make your landscape more environmentally friendly and cost-effective. You'll also save hours of time from doing maintenance and erase your drought worries as well.
Price Change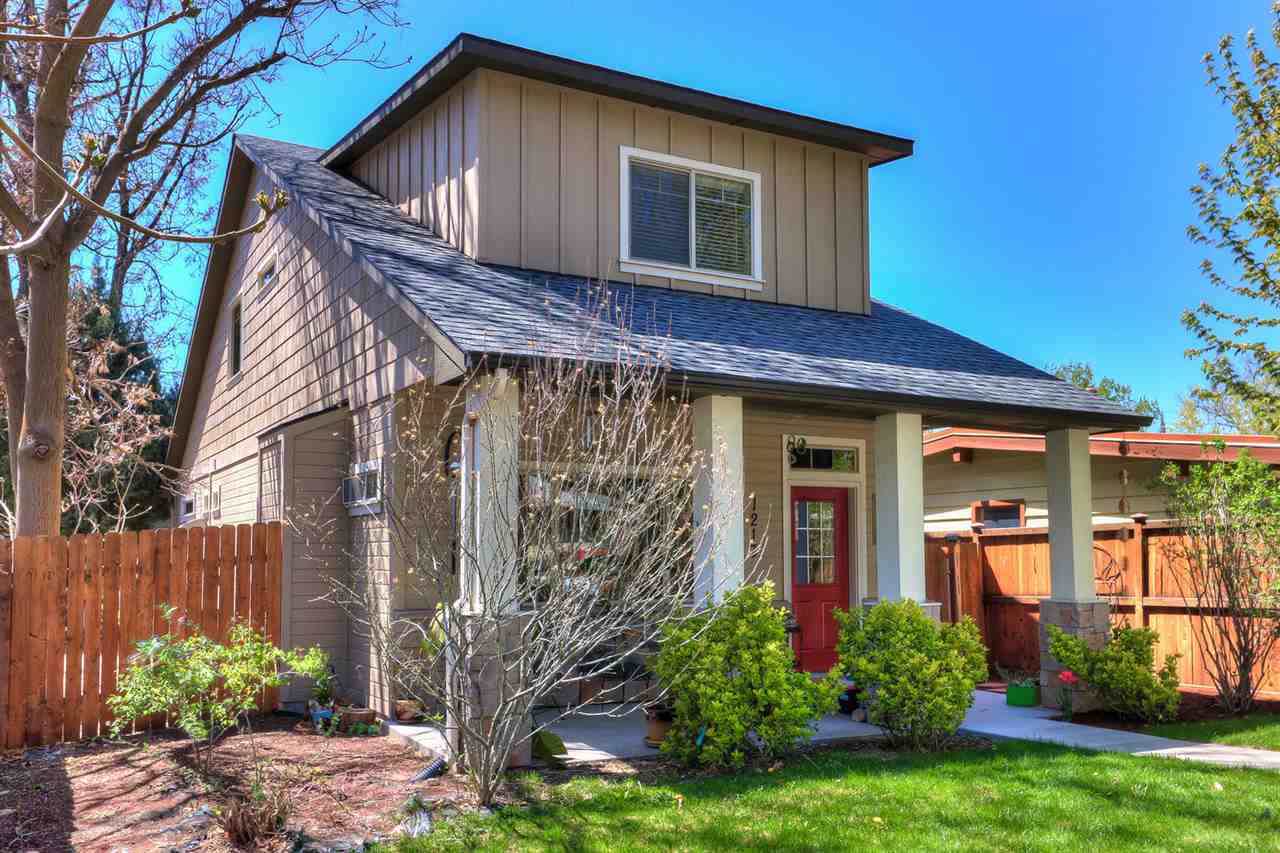 This is a house you can call HOME! East end Boise home with all the perks of being close to downtown (3 minute commute time), with newer construction. Three bedrooms, with en suite bathrooms for each, plus a half bath on the main level. Great room concept with open living, kitchen, dining, plus 9 ft. ceilings. Private back patio with hot tub and fully fenced back yard for entertaining or relaxing. Two car detached garage with alley access. Basement perfect for theatre room. Basmt bath rough plumbed.
You and your family spend the most time in your living room. This is a great place for conversation, relaxing, and fun. The place where the family gathers often should also be a place of safety and security for everyone. Every nook of the room should be covered from the floors to the furniture to the fireplace. You can improve the safety of your living space without sacrificing on the style of the space. A safe living space is all part of a safe home. 
Be Cautious Of Fires
Fire safety should be a top priority when it comes to your living space. Especially if you have young kids or pets in the home, you'll need to make sure that little hands and paws cannot get anywhere near fireplaces, candles, or burning incense. Accidents can happen in a matter of seconds with these items. Use baby gates to block off certain areas near the fireplace to keep children and pets away. Burn candles in places that are out of the reach of little hands. Also, anything that's burning should be secured and unable to be knocked over. 
Be Mindful Of Cords
Cords sprawled throughout the living room can spell disaster. These can lead to tripping, electrocution risks, and an overall mess. Use clever ways to keep cords organized and out of sight. You can buy cord keeper units at your local hardware store, or you can create your own. All you need is a box with holes to filter the cords through. This will keep tiny hands and paws out of the reach of loose cords          
Install Security Systems
Even when you're home, it can be a good idea to install a security system. You should always have an alarm system installed near the front door of your home, which typically is near your living space. Security systems don't need to be an eyesore either. There are plenty of systems that actually blend right into your walls, making them an even better choice to hide them from the likes of thieves or intruders. One idea is to hide the alarm system components behind a painting or wall canvas. This is a good security measure for your children too. They won't have access to the alarm system, so you don't have to worry about them believing that it is a toy.
Furniture
Keep furniture out of walking paths in your living space. It can cause problems for young children who are still learning how to control their own movements. Bulky furniture that gets in the way can also cause a hazard for adults too. You don't want sharp corners or bulky elements that can contribute to trips, falls, and other injuries. Always keep the safety of the very young and older adults in mind.